TerraClean Advert
It is so important to understand that in most cases A blocked DPF is a symptom of another problem so DPF cleaning isn't enough. We advocate professional diagnostics before commitment to DPF cleaning – resolve the cause of the DPF blockage – then DPF clean. Failure to diagnose could result in your DPF blocking again, quickly.
TerraClean service centres are experts so can effectively diagnose DPF problems. We have a solution for cleaning your DPF. We can clean the DPF on your car using TerraClean patented equipment. Alternatively, if the DPF is blocked with oil or ash, which simply cannot be cleaned by any system whilst the unit is on the vehicle, TerraClean dealers have access to an off-vehicle DPF cleaning system which will remove oil and ash.
Identifying why a DPF is blocked will prevent further work being required. That's why TerraClean service centres carry out their own diagnostics to identify the problem with your DPF. Once the root cause is found it can be fixed and a clean will take place, but only if & when necessary. Sometimes sorting the problems enables the DPF to regenerate (self-clean) on its own.
Watch the latest TerraClean TV advert below and to find your closest TerraClean service centre simply enter your postcode above.
By Mark Clennell
/ 02/09/2021
What is E10 fuel and how will it affect you? Plans for E10 fuel to become the standard grade at forecourts
Read More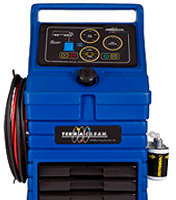 TerraClean™


Service Centres
Join the TerraClean Team
Opportunities exist for garages and established mobile operators to become part of the developing network of TerraClean Operators. Simply follow the link below.