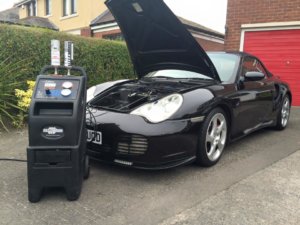 Can you TerraClean any vehicle?
One of the questions we are most frequently asked is whether we can TerraClean any vehicle. The answer is yes! TerraClean has enormous benefits for combustion engines because it removes deposits that occur as part of the combustion process. As you might expect, when too many deposits build up in an engine, its performance can be impaired. It is a process that is often known as engine carbon cleaning or engine decarbonising. TerraClean uses patented technology - unavailable to any other engine carbon cleaning services on the market - to remove these deposits in a quick and simple process that leaves engines running like new again. The reasons people turn to TerraClean are varied: some want to improve performance, some want better efficiency from their engine (perhaps they don't get the same MPG that they used to), some want to reduce their emissions, and some simply want to improve the lifespan of their vehicle's core components. Owners of vehicles of all shapes and sizes have been left delighted with the results after a TerraClean.
Which vehicles can you TerraClean?
We really can TerraClean any vehicle with a combustion engine (so that really only rules out electric vehicles). Old or new, classics, family runabouts, large or small, sporty or sensible... we can benefit anything. It might be easier to show you: here are some examples of the different kinds of vehicles we can TerraClean. We can TerraClean anything from Ice Cream vans...
...to Jeeps...
...to Bobcat Excavators...
...to buses...
...to sports cars...
...and much, much more. If you're still unsure, the easiest thing to do is ask: our dealers are very friendly and will be happy to answer any questions you may have about engine carbon cleaning for your car, bike, boat, bus, lorry, taxi, etc. Just pop your postcode in at the bottom of this page and get in touch with your nearest TerraClean dealer.
More:
How engine carbon cleaning works